Oct 11, 2023 / Security
Scam-Proof Your Finances in a Digital World
With the world trending toward digital everything, scams have become more sophisticated and harder to spot than ever. At Utah First Credit Union, we're alarmed by the increasing number of reports from our members falling victim to scams — from fraudulent puppy sellers to Utah First impersonators — but we're committed to your financial health. It's essential to stay one step ahead of digital con artists, and we're here to show you how so you can scam-proof your finances.
In this blog post, we'll dive into common scam types and arm you with the knowledge to detect and fend off these digital tricksters.
Common Scam Types
Scammers are a crafty bunch, but they often rely on the same bag of tricks. Here are some of the most common scams out there:

Job Scams
These scams involve dream job offers that turn out to be too good to be true. Beware of phishing attempts — or requests for personal information — and upfront payment for job opportunities.
What they are:

Job scams involve fraudulent offers of employment that often promise high wages for minimal effort. Scammers pose as recruiters or employers to trick job seekers into sharing personal information or paying for fake or nonexistent training, background checks, or equipment they claim will be reimbursed later on.
How to spot them:

Job scammers advertise fake opportunities in the same way as legitimate organizations. With scams, however, the job offer may be unsolicited and require upfront payment and personal info. Legitimate employers won't ask for money or sensitive information like your Social Security number or financial details during the early stages of recruitment. Do your due diligence to research the company and check for reviews or complaints online.
Refer to the Federal Trade Commission's website for more information on job scams.

Sweetheart Scams
Online romance scammers will sweep you off your feet — and then clean out your bank account. These heartbreakers are masters of emotional manipulation.
What they are:

Sweetheart scams prey on individuals seeking love or companionship online by creating fake dating or social media profiles and seeking out romantic relationships.

Eventually, the scammer will come up with a made-up reason to ask for personal info or money, such as unexpected emergencies or travel expenses.
How to spot them:

Be careful with individuals who rush the relationship or avoid face-to-face meetings or video calls. Scammers will often give themselves away by asking you to send them money in a way that's difficult to reverse, like wiring money or putting it on gift cards. Never send money to a person you haven't met, and always conduct reverse image searches on profile pictures to check for authenticity.
Check the Federal Trade Commission's website for more details on sweetheart scams.

Puppy Scams
Who can resist adorable puppies at an incredible pricepoint? Scammers exploit this weakness by posing as breeders and convincing you to give them your money without anything in return.
What they are:

Puppy scammers post fake online listings for adorable puppies, often at too-good-to-be-true prices. They convince victims to send a deposit or upfront payment for the pet, which doesn't actually exist, leaving victims without a puppy or their cash and ghosting them once the payment has gone through.
How to spot them:

Be skeptical of sellers with recently created social media accounts and always reverse-image search their puppy photos. Scammers usually demand upfront payment and may demonstrate poor grammar, spelling, and punctuation. Research the seller, ask them lots of questions, and request a face-to-face meeting or video call with the puppy before putting down money. Legitimate breeders usually have large social media followings, are very knowledgeable about dogs, and will allow you to interact with the animal. Avoid transactions with sellers who resist phone calls or in-person visits.
For additional information on puppy scams, check the Better Business Bureau's website.
Bank Impersonation Scams
Scammers often pose as bank employees, convincing you to reveal sensitive information or make money transfers that cannot be reversed. In 2022, the FTC reported $330 million in losses from bank impersonation text scams!
What they are:

Bank impersonation scams involve fraudsters impersonating trusted financial institutions, like Utah First Credit Union. They use fake emails or phone calls to deceive victims into revealing sensitive account information so they can transfer money out of your bank account to themselves.
How to spot them:

Always verify the legitimacy of unsolicited communications from your bank. Be cautious if you receive urgent requests for personal information or financial transactions, and check for unusual email addresses or phone numbers. You can contact the bank that allegedly contacted you if you feel uncertain.

What You Need to Know
Unlike puppy, romance, and job scams, you don't have to be looking for anything to fall prey to a bank impersonation scam. They can happen at any moment and be pretty convincing, so here's what you need to know to stay one step ahead.
Scam Emails Can Appear Legitimate at First Glance
Watch out for emails that use our branding but with impersonal greetings ("Dear Customer" or "Dear Sir/Madam), typos, or awkward grammar. Scam email messages are often sent to "undisclosed recipients," which means the message that seems personal to you was actually sent to a large list. You should also check the email address used to send the message. Legitimate Utah First communications will always end in "@utahfirst.com."
Scam Texts and Emails Prompt You to Click Weird Links
Scams will ask you to click on suspicious links to verify your account details. Fake links will have an unfamiliar domain name, misspelled words, or be missing the secure "https" at the beginning. Do not click on any links or reply to any text or emails from unknown senders. 
You Can't Always Trust Caller ID
Scammers can spoof caller ID to make it look like their call is coming from Utah First Credit Union or another legitimate institution. You can always hang up and call the official number on our website if you're suspicious.
Scammers Will Try to Scare You With High-Pressure Tactics
Scammers take advantage of the urgency and panic you feel when your money is at stake. Their calls, texts, and emails will exploit your emotions to make you act impulsively and reveal your sensitive information. If you get a message like this, stay calm and remember that we will never pressure you into hasty decisions. 
Examples of Common Banking Scam Messages
Text, email, and phone scams come in all shapes and sizes. Here are some examples of scam messages to watch out for: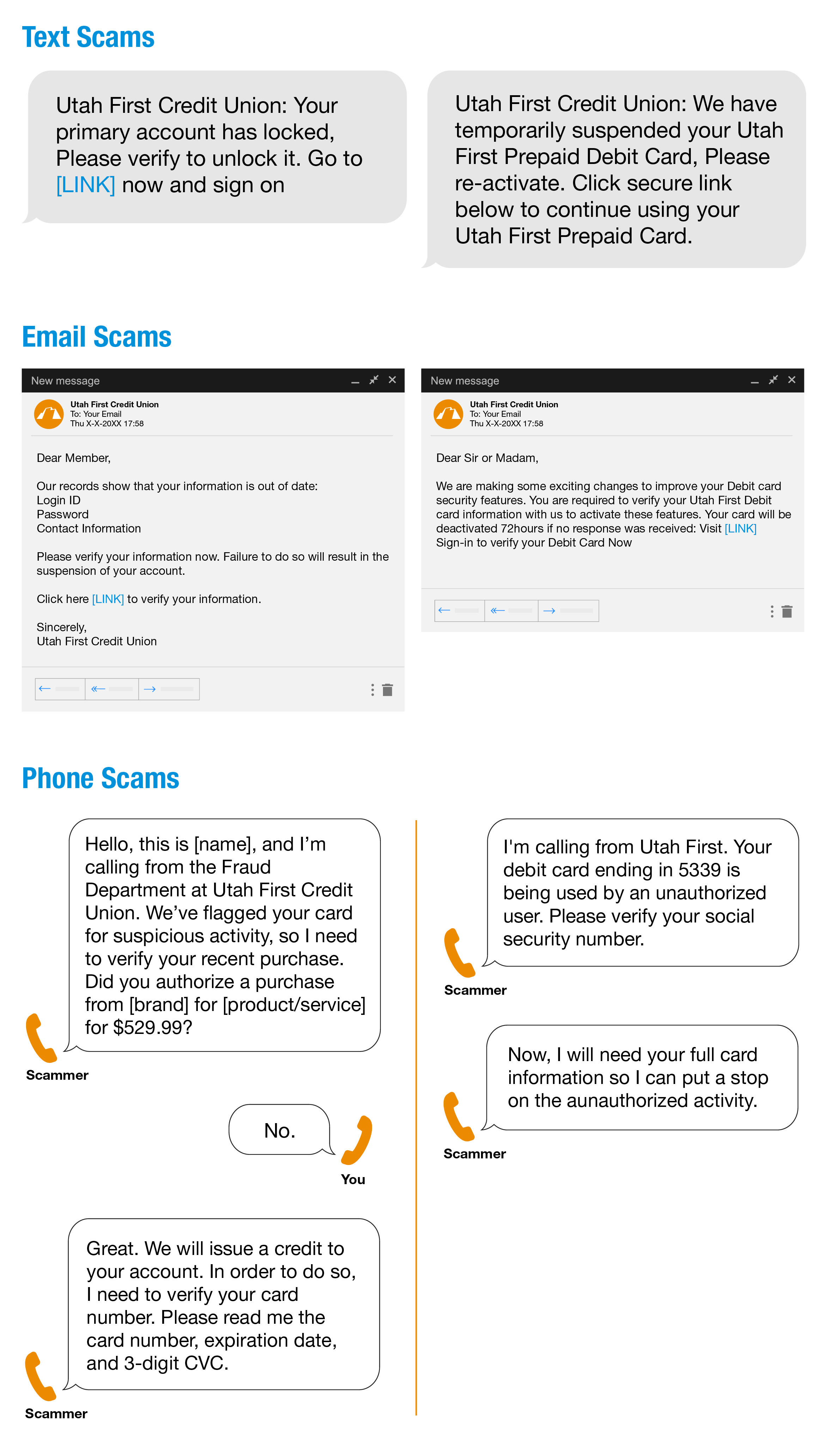 Three Simple Rules for Protecting Yourself From a Scam
If you're suspicious of a scam, here are three simple rules to help you protect yourself:
Slow down

: When scammers try to create a sense of urgency or threaten you with losing your account, it's important to take a step back, ask questions, and think things through before responding.

Spot check

: Before clicking any links or downloading files, make sure to double-check the details and verify if what the scammers are telling you makes sense.

Don't send

: Scammers use stolen employee photos to impersonate familiar organizations and demand immediate payment. Reputable organizations never demand payment on the spot.
What to Do If You Get a Shady Call
The three rules above will usually keep you safe from scams, but some scammers can be particularly convincing. If you find yourself in a sketchy situation, here are some additional tips for keeping yourself safe:
Hang up fast:

If a call feels iffy, hang up immediately. Scammers are expert manipulators and can be very persuasive. By ending the call quickly, you reduce the chances of falling victim to their tricks. If you spend too much time on the phone, they may gather information about you that makes it easier for them to defraud you in the future.
Keep secrets secret:

Never spill the beans about your account to an unknown caller, even if they claim to be a Utah First employee. Your information is your business, and we will never call for your login credentials or a one-time password unless you call us first.
Call us directly:

If you ever have doubts about a phone call or email claiming to be from Utah First, get the name of the caller and reach out to us for verification that it was us at (800) 234-0729.
Update your software and passwords:

You should only use our website or app to log into your account, not third-party links. Updating your apps and browsers will give you additional security when accessing your accounts. It's also a good idea to update your old passwords and use multi-factor authentication to safeguard your money. 
Facing a Scam? Reach Out to Us ASAP!
Your peace of mind matters to us, and we're here to shield you from tricksters. If you're worried someone is trying to access your account or has already, reach out to us at (800) 234-0729. Be safe out there!